Main content starts here, tab to start navigating
Desi's Culinary Journey
Rooted in the flavors and foundations of Indian cuisine, Silicon Valley's Indian Restaurant, desi Contemporary | Indian | Casual Restaurant takes diners on a culinary journey with our adventurous and globally inspired dishes that highlight the similarities between various cuisines of the world. Currently offering delivery and takeout options, our vibrant space celebrates the diversity amongst cultural staples while shining a light on striking commonalities. An innovative and expansive menu complete with our Gabru Bar creative cocktail program all available RTD (ready-to-drink, to-go), our menu tells a worldly story while staying true to our founders' Indian roots; a husband-wife team raised in North and South India respectively. Their union connected the vast country, while our restaurant's cuisine unifies the globe. The word Desi refers to the people, products, and culture from India, derived from Sanskrit meaning land or country, coined as a way to showcase Indianised flavors. Not fusion but displaying the evolution of food through globalization, we're bringing a new kind of cuisine to San Jose. Desi offers contemporary Indian food as you'd find it in India today. Hand-selecting a collection of the best Indian food recipes, sample through our diverse selection of menu items, or get creative with a DIY and customize your dish. We believe food is where good stories start.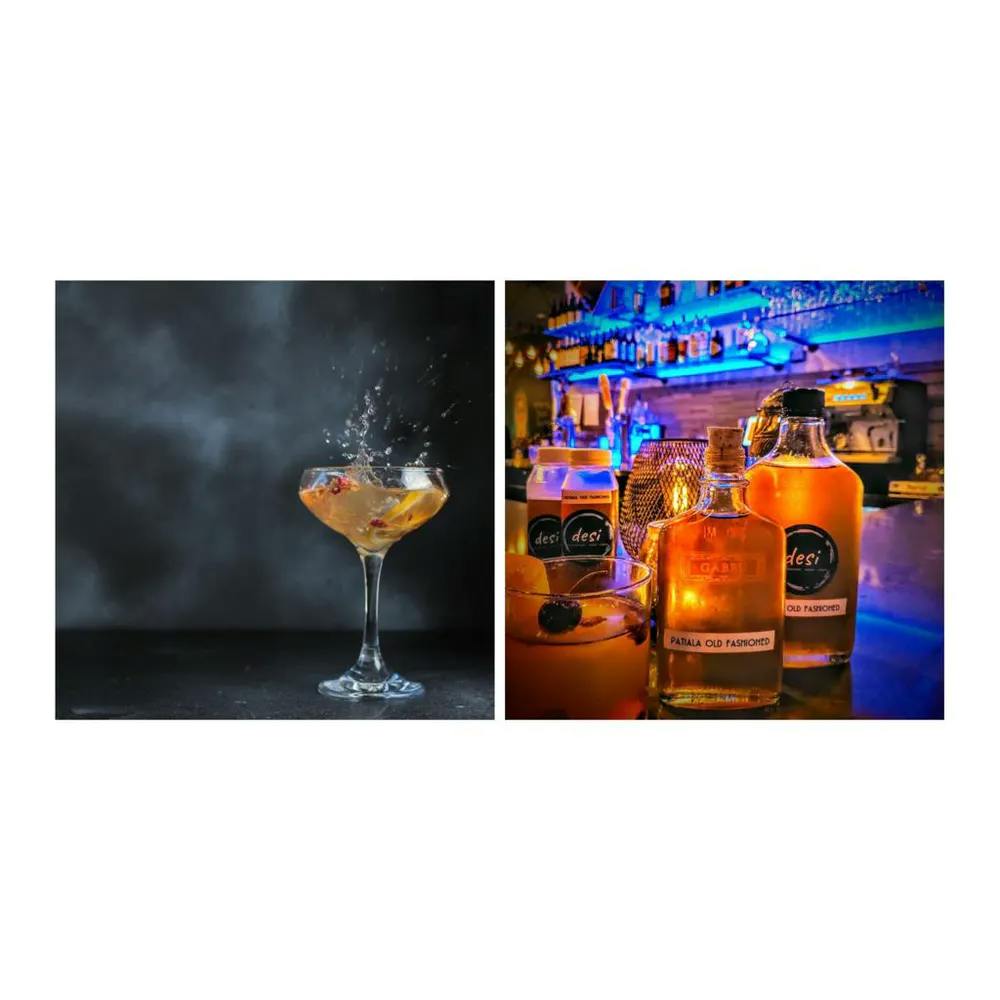 Desi's Culinary Journey
All-day pre-designed menu items that are famous street eats or quick bites and include:
Gujia Empanada - A play on a traditional Indian dumpling stuffed with garlic mushrooms, cottage cheese, and green peppers

Desi Sliders - With a choice of chicken tikka, minced lamb or samosa, garnished with mint chutney, pickled onions, peppers in a slider bun along with fries or salad

Kulcha Chalupa Taco - Kulcha is a fluffy mildly leavened Indian flatbread, a cousin of the soft tortilla. We've filled it with your choice of the ever-popular creamy butter chicken or our vegan Pindi chole. Both options are topped with vinegar onions, soaked in bay leaf and peppercorn, and a dollop of guacamole

Tikka Chance on Me - Goes beyond your basic bruschetta with chicken tikka masala, mozzarella cheese, fresh onion, and bell peppers
Popular Big plates include:
Cheese Sourdough Naan with Dal Makhani - From Delhi to the Bay, the famous San Francisco sourdough is also eaten miles away in Delhi from generations called Khamiri (sourdough) Naan

Impossible Curry - Our plant-based Impossible curry (Nutrela Soya granules) eaten in Indian households is a great substitute for vegetarians and meat-eaters alike!

Blackened Chicken or Salmon Bowls - Gluten-free, this dish features saffron/spinach rice, blackened salmon, turnip salsa, seasonal veggies, and pickles.
Design your dish with Desi's craveable customizable DIY (do it yourself) options. Start with the bases:
Bowl Me Over - Saffron Rice/Spinach/Quinoa

Dig In Taco - Made with your choice of Indian flatbreads, Roti or Naan

Roll It Up - Wrapped with Kathi roll, a flaky flatbread with origins in India's West Bengal, or burrito-style with rice

Go Lean - Fresh greens
Add your desired Main, including choices of:
Chicken Tikka or Paneer

Vegan Pindi Chole Masala or Pulled Jackfruit

Fried Tilapia

Impossible Curry
Get saucy with an innovative selection, both Indian, think curries and kormas, and non-traditional. Add a variety of tastes, textures, and flavors, with Pickled Vegetables, several different Chutneys, Cucumber Raita, Guacamole, Fried Lentils, or turnip salsa. Offering both vegan food, vegetarian and gluten-free friendly dishes, order whatever it is you crave at any time of the day. Our playful cocktail program even offers drink lists to match your mood -- cheerful & lighthearted, humorous & reflective, romantic & effervescence, or mysterious and adventurous. Non-alcoholic standouts include the West Coast-inspired Cal Indo shake with figs, nuts, raisins, and gelato, as well as the fermented and probiotic Indian Kaanji- Indian kombucha with beets, mustard seeds, and carrots.
A meal from Desi is fun. Great for all occasions or any time of day, tailored to various tastes, Desi is designed for every palate. Travel the world and savor the delicious, craveable outcomes of when cultures connect with a modern Desi Indian food meal. Eat at Desi.