Main content starts here, tab to start navigating
Summer is here and our Indian Restaurant is ready to help you enjoy it! Whether you're in need of food and drinks for your next picnic, graduation party, any celebrations, or gathering, a place to dine al fresco with family and friends, or refreshing new seasonal cocktails -- Desi has it all!
Party it up! With Desi Family or Boxed Style Meals
Now is the season for fun corporate lunches or weekend picnics with loved ones! No need to cook -- we can package up your favorite Indian food in portions that will satiate everyone's appetite. Offering choices for either party/family style packaging or boxed lunches, our Catering Menu includes a comprehensive 'Party it up!' option with selections on starters, big plates, desserts, and beverages at just $30 per person! Looking to mix and match to create your own custom spread? Many of our Indian Street Eats, Quick Bites, Desserts, Drinks, and Cocktails are also available in larger portions. We'd love for our Modern Indian Cuisine to be part of your summer festivities!
Patio Dining
Beat the heat and soak up the sunshine with a meal outdoors! Complete with sunny areas and shaded tables, enjoy your favorite Indian Eats on our spacious outdoor patio. Whether in the mood for a several-course meal or just wanting to enjoy snacks and cocktails with friends, we've got a table and a menu for you. Sample through our contemporary Indian food, with plenty of vegetarian and gluten-free options, and sip through our recently upgraded Gabru Bar cocktail list. In addition to fun and creative cocktails, we also have a complete list of non-alcoholic drinks for non-imbibers. Whatever you're toasting to, do it at Desi and pair it with our flavorful, global Indian food.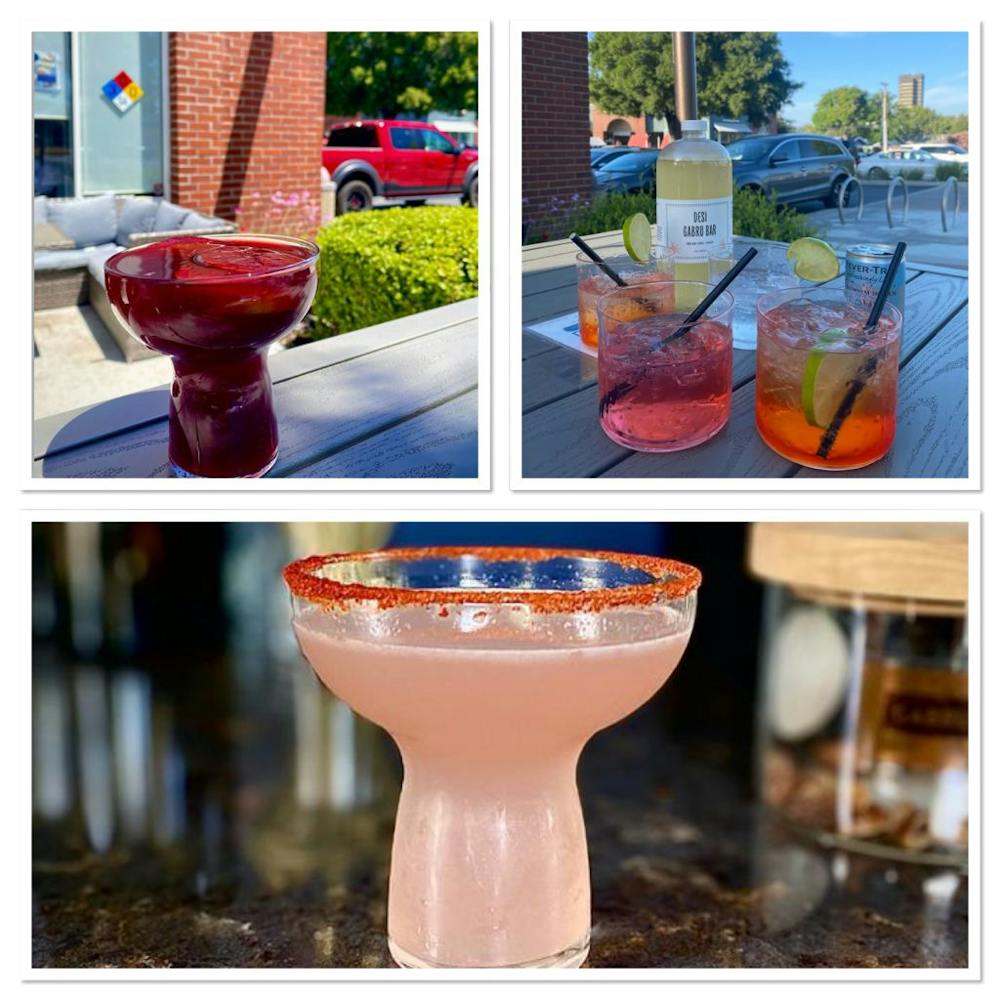 New Summer Cocktails!
Fresh to our Gabru Bar cocktail menu and oh so refreshing, we've added two libations perfect for summer.
Just Chill -- Mixed with your choice of Vodka (Titos) or Gin (Bombay Sapphire), this fun play on a classic soda and tonic water is offered in three flavors:

A spiced Gabru Tonic syrup

Sweet Blackberry & Lavender

Zesty Blood Orange

Blushing Sangria -- Perfectly relaxing, our summer sangria is slightly fruity, slightly sweet, and totally delicious.